Volleyball is a great sport and Volleyball anime are some of the great sports anime out there. Sports anime like Kuroko's Basketball and Haikyuu!! get more and more popular, as Sport is one of those things that unites nations and cross borders.
Volleyball is my favorite sport because in volleyball there are no stars and no one-man shows. Every member of the team must contribute or the game will be lost. It makes me happy to see all those volleyball anime shows gaining popularity, there some volleyball movies and even some volleyball anime games.
Volleyball anime list
In this section I will present the best volleyball anime list. All the shows in this list are great to watch.
1) Haikyuu!!
Haikyu!! - Official Trailer
One of the best anime volleyball series around. Based on the manga written and illustrated by Haruichi Furudate. This volleyball anime called Haikyuu!! as this is the japanize word for "Volleyball"
Shouyou Hinata stumble upon a volleyball game played by  "Little Giant", a professional volleyball player. After watching this game he gets hooked upon the idea to make a volleyball club at his school. He sets up the team but the team's first game is a disaster. They get completely defeated by the championship favorite team led by Tobio Kageyama. The defeat encourages him to continue his quest ob becoming a great volleyball player. Shouyou Hinata enters the Karasuno High School, where he found out that Tobio Kageyama also entered the school and the volleyball team. The two of them start out as rivals competing for team leadership but soon learn that when they combine their talent together nothing can stop them.
This show is considered the be one of the best sports anime and there is also anime volleyball Haikyuu full movie. the last season of the series can be watched on Crunchyroll.
2) Attack No. 1
This is some great oldie series and actually was the first female sports anime series in the girl's category on japanize television. Kozue volleyball anime girl who has a dream: becoming a volleyball player on the national volleyball team. This good volleyball anime show follows Kozue on the road to success, starting as a child playing in school to the great accomplishment of becoming a national volleyball player. Kozue has a bumpy road to the top. She struggles with many challenges and has a rivalry with the team leader Yoshimura. She gets by with the help of Midori Hayakawa, her friend and the help of her coach.
The thing I liked best about this series is that it shows the emotional struggle an athlete comes by and not only the physical difficulties. The anime show is very realistic and the viewer can relate to Kozue and her long way to the top.
3) Attacker You!
[ERR] Attacker You ! Opening
You Hazuki decided to be one of the Olympic japanize volleyball teams at the 1988 Seoul Olympics. So at the age of 13, she joined her school volleyball team. This troubles her father who is very unsportive of her. Unlike her father, her stepbrother his very proud of her. You form a friendship with Nami Hayase, but this friendship doesn't last as the two become players on rival teams. Having you to split her wish to become a better volleyball player and having a token romantic endeavor with the head of the male's volleyball team. The coach of the volleyball team is very strict and even violent. This doesn't stop You from becoming one of the best players on the team. Many of the names were changed for western viewers. For example, You has been changed to Mila, Jeanne, and Juana.
4) Attack on Tomorrow (Ashita e Attack!)
Ashita e Atakku! a k a Attack on Tomorrow 1977 Intro Opening
Another oldie, and another girl's volleyball series. This is a drama starring Mimi Hijiiri, an anime volleyball girl, a student in her l ast year of school. together with her teammates, she transforms the team from a chaotic losers team into a well-organized volleyball team that aims to win the championship in the National High School Volleyball League. This anime volleyball show is very similar to the series "
Advertisement
Attack No. 1″ we talked about in the previous entry. In fact, it is so similar that many have thought that it is a spin-off of the other show. It is believed that because of this resemblance the show got canceled quickly and stopped only after 23 episodes.
5) Harukana Receive
Harukana Receive - OFFICIAL PREVIEW
It is time for some beach volleyball anime. On Okinawa, Haruka pairs with Kanata, her cousin to form a beach volleyball team. Kanata who is quite short wanted to quit playing volleyball but is persuaded by Haruka to join the junior tournament. This is a unique sports anime because beach volleyball is quite different from regular volleyball. In this variant of the game, volleyball is being played outdoors on sand usually around the summer. Haruka being tall and Kanata short making them a special couple of beach volleyball players.
6) Shoujo Fight: Norainu-tachi no Odekake
The story follows Ooishi Neri, a high school girl who is a talented volleyball player. She once was the captain of an elementary school team that went all the way to the national tournament. However, she spent three years as an alternate at a junior high school renowned for its volleyball program. Now she's in high school with new teammates, and gets a chance to prove herself again. The show is just 30 minutes in length but it worth every minute of it.
Volleyball anime characters
Shouyou Hinata
The main protagonist of the anime Haikyuu!!. He has unruly, orange hair and brown eyes. Hinata has a cheerful and energetic personality and he is very lovable. Hinata gets frightened easily particularly by a bigger opponent. This prompts him to take cover behind his closest colleague. Be that as it may, he recoups rapidly and while playing he is fearless. His favorite food is Tamago Kake Gohan ( egg on rice ). Hinata's jersey number (10) is coincidentally the same with the "Little Giant" the volleyball player that inspired him to play volleyball. Hinata gets excited easily and often talks loudly. He is the loudest member after Nishinoya and Tanaka.
Tobio Kageyama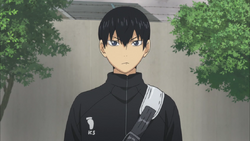 Tobio Kageyama "King of the field" is another main character of Haikyuu!!. This volleyball anime boy is the deuteragonist of the anime. Start as a rival to Hinata and becomes his teammate and his friend. Tobio Kageyama is a tall muscular player. A bit short-tempered and dedicated to winning. Kageyama wears black volleyball shoes with and light grey accents. He is the youngest member of his team.
favorite quote: "The first game, second game, the playoffs, the nationals…I'm going to win them all."
Asahi Azumane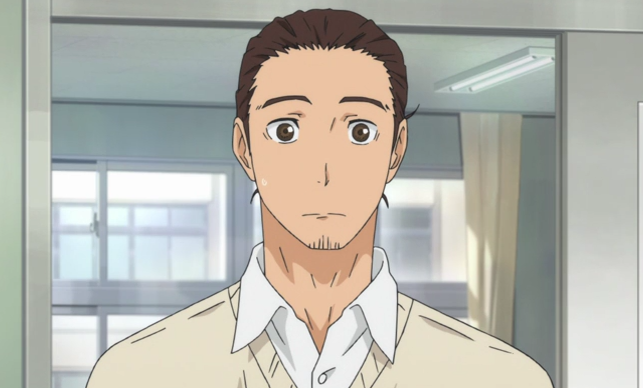 Another anime character from the anime Haikyuu!!. He is a member of the volleyball club. His position is Wing Spiker( the players that serve and lead the attack). With his long hair and short beard, he looks older than his actual age. He is quite a gentlemen, and although he is the team ace (The Ace is responsible for spiking past the blockers with brute force) he is a good-natured and gentle character. Asahi doesn't have thick skin and remarks about him sink right into his heart. Asahi wear white gym shoes with black accents. Like other Capricorns overachieving and determined.
Haruka (Harukana Receive)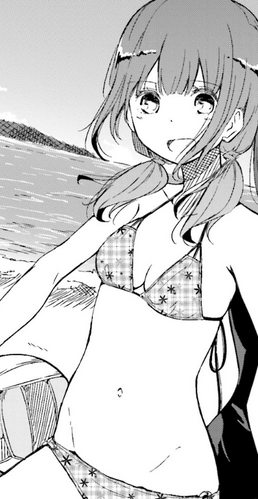 New to Tokyo, Haruka is a tall cheerful and bright second-year student. She is a beach volleyball enthusiast. Together with Kanata, they make an unstoppable pair.
Kanata Higa (Harukana Receive)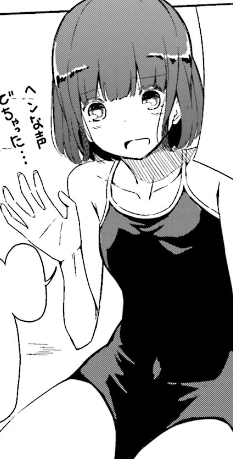 Kanata has a problem, she loves volleyball but her short height makes it really difficult to play it. This fact made her quit playing. It is only when her cousin, Haruka comes to Okinawa and pursued her to make a comeback and join the beach volleyball tournament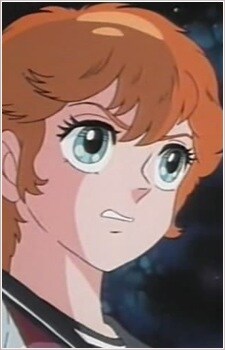 Only thirteen-year-old anime girl and already a determined volleyball player. She moved from the countryside to the big city of Tokyo. She jumps as high as she wants to and has a fantasy to become a player in the national women volleyball team in the Olympics. She has a big fan in her stepbrother and this compensates for her unsupportive father. She joins Hikawa High's girls' volleyball team. She is passionate about Sho Takiki, the caption of the Hikawa's boys' volleyball team. You Hazuki has a rivalry with Nami Hayase her teammate who becomes her friend after a little while.
Kozue Ayuhara (Attack No. 1)
Kozue Ayuhara is forced to quit the sport because of an illness. This illness makes her leave Tokyo and move to the country. After a while when she is better she returns to the sport and becomes the volleyball team leader. Kozue becomes a friend of some "bad company" at least bad in the eyes of her teammates. She leaves the team and together with her new friend she forms a volleyball team and challenges her former team for a game of volleyball. When they win the two teams unite and Kozue Ayuhara becomes captain of Fujimi Middle School's volleyball team.
Midori Hayakawa (Attack No. 1)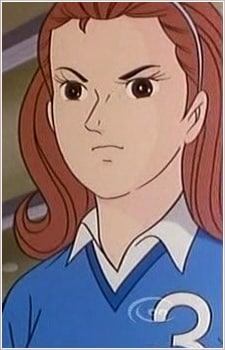 Midori Hayakawa has a wish and one wish only – to become the volleyball team captain. For this reason, she has endless fights with Kozue Ayuhara. She comes from a rich family and has good skills in the game. After a few arguments with Kozue, she agrees to become the number two player in the team and eventually becomes a friend with Kozie.
Volleyball anime art
There are many gifs, images, and memes about anime volleyball. In this part, I will share with you some of my favorite.
Bonus clip
Ok so I promised a bonus clip and here it is – Haikyuu!!: Every time someone is hit in the head by a ball.
Haikyuu!!: Every time someone is hit in the head by a ball (S1+2)
Anime volleyball faq
Is Haikyuu finished?
Haruichi Furudate's Haikyu!! manga series is nearing its finale. This is because the manga's official website has announced that it has already begun its final arc during this year's 48th issue of Weekly Shounen Jump magazine. They also tweeted an image thanking everyone for their support until the end.
Is Haikyuu the best sports anime?
Haikyuu is based on Haruichi Furudate's manga about volleyball and is one of the most popular sports anime right now. It not only gets your heart racing because you watch high-intensity matches, but it also shows the compelling storylines of each character.
Is Haikyu an anime?
Haikyu!! (is a Japanese shֵnen manga series written and illustrated by Haruichi Furudate. An anime television series adaptation by Production I.G aired from April 2014 to September 2014.
Is Haikyuu a bl?
Haikyuu is not Yaoi or BL. It's just that the fandom ships everyone.
Is there romance in Haikyuu?
There are almost no romantic subplots in Haikyu at all.
Who is the tiny giant Haikyuu?
Tenma Udai also is known as the Small Giant or Little Giant, was the ace of Karasuno High's Boys' Volleyball Club. He is Shֵyֵ Hinata's inspiration. As of November 2018, he is currently working as a manga artist.
Does Hinata ever meet the tiny giant?
Hinata finally meets his idol, the Small Giant, when he unexpectedly shows up to support his alma mater at Nationals.
Does Hinata kiss Kageyama?
You're an idiot, Kageyama mumbles, with what feels like the beginnings of a bruise starting to bloom on his elbows. Hinata kisses him. It's not anything special. Kageyama kisses back, because he can, and because he's wanted to for possibly a lot longer than he'd realized.
Is Haikyuu anime good?
100% Yes!! Even if you aren't into sports/sports anime, I would suggest Haikyuu!! The characters are really well made, the animation is great, plot and progression of the teams (not just the main team) is so interesting, and it gets you really invested!
Advertisement